SKU:

CLNStarterPack-6

Weight:

15.00 LBS

Shipping:

Calculated at Checkout
Zogics Clean Starter Pack | Eco-Friendly Facility Cleaning Concentrates
Try each of our EcoLogo certified products in our Zogics Clean Starter Pack. Designed with you in mind, our concentrated products are cost effective, simple and precise. Our Zogics Clean lineup covers full facility cleaning needs, from general purpose cleaners to restroom cleaners and rubber floor cleaners.
The Benefits of Cleaning Concentrates
Commercial cleaners are sold as either ready-to-use products or in concentrated form for dilution. Using concentrated cleaners has many benefits when it comes to sustainability and getting the most bang for your buck. Read our Clean Guide to learn more about the benefits of cleaning concentrates.
---
Our easy pour containers feature a single 1 oz chamber with marked measurement levels of 1/2 oz for the most accurate dilution. Dilution control is possible through four steps:
Open the container
Squeeze until product is at desired level
Pour into bottle or mop bucket
Add water
What's Included
1 Zogics General Purpose Cleaner Concentrate, 32 oz
1 Zogics All Surface Neutral Cleaner Concentrate, 32 oz
1 Zogics Organic Acid Restroom Cleaner Concentrate, 32 oz
1 Zogics Non-Ammoniated Glass Cleaner Concentrate, 32 oz
1 Zogics Peroxide Powered Cleaner and Degreaser Concentrate, 32 oz
1 Zogics Rubber Sport Flooring Cleaner and Degreaser Concentrate, 32 oz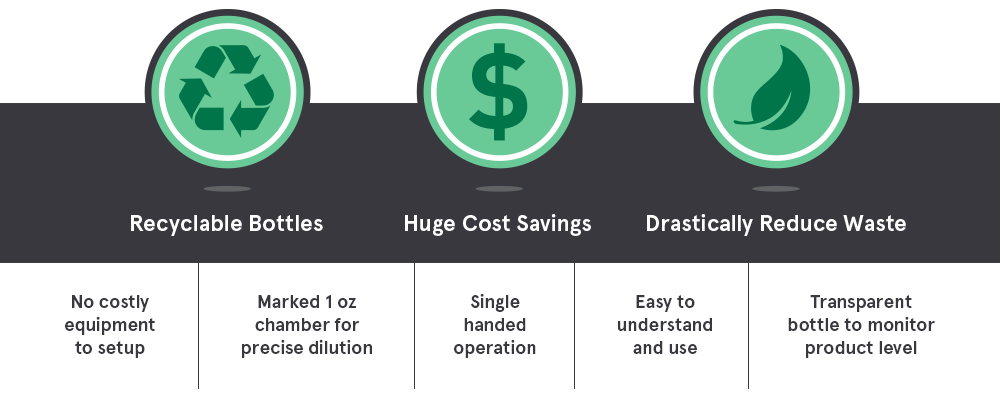 Please see individual product pages for detailed specifications
The Zogics Guarantee
We take pride in our products, which is why we offer a 100% happiness guarantee on all Zogics branded products. Enjoy an extra level of comfort buying our branded products knowing they are backed by a happiness guarantee that never expires. Used Zogics branded products can be returned at any time. Our return policy is simple: just ask and we'll give you a full refund (minus shipping charges).