About Us

Our Company
We're actively building the industry's best one-stop shop for all your facility needs – with your help. Since Day One we've built our catalog based on your ideas — we are here not just for you, but because of you. Whether you're focused on health, fitness, education, government, real estate, or hospitality, we're a bit obsessive about bringing you the best products, at the best prices, as quickly as possible. Plus, our famously friendly Customer Experience Team is always here to help.
We try to bring a sense of balance and authenticity to everything we do. Our selection includes eco-friendly, safety-oriented, and specially-designed products to suit a variety of facilities. With a dedicated staff, we're always striving for an honest connection with clients, sharing knowledge, resources, and pushing the industry in new and creative directions. In keeping with our mission, we're excited to give back through land preservation initiatives and local conservation efforts in conjunction with
The Trustees of Reservations
.

Our Culture
Our home is our playground. We're located in the Berkshires — a hotbed of culture surrounded by the great outdoors. You can find us in the foothills of the largest state forest in Massachusetts, where we hike, run, bike, and x-country ski on a daily basis. We believe in wowing our customers and in
giving back
in ways that help maintain, expand, and preserve our amazing forests and ridgelines.

What We Do
We work with major gyms, hotels, hospitals, and other types of large-scale facilities. However, we're enthusiastic about working with small local businesses as well. Our products range from our best selling
gym wipes
, high-quality
cleaning supplies
,
wholesale towels
, to state of the art
fitness and exercise equipment
, carefully handpicked wellness products, and much more. Whatever your expertise or business, we have the experience to help facilitate what you need. We pride ourselves on offering an incomparable customer experience and on helping businesses create the environment they hope to provide for their own clientele.

Our Team
Paul LeBlanc, Founder & CEO
Originally from Boston, Paul attended Babson College and the University of Economics in Prague. A lifelong entrepreneur, Paul is also on the Board of Directors for
The Trustees
, the nation's oldest statewide land conservation organization.
Paul is a former member of the U.S. Cycling Team and was a three-time Junior National Champion and U.S. Record Holder. These days, Paul can often be found road cycling, hiking with his lovely wife, Lauren, and trail running with his Rhodesian Ridgeback,
S'bu
.
Connect with Paul on
LinkedIn
,
Instagram
and
Strava
.
Angessa Hughmanick, Business Development Manager
Angessa is a graduate of The Boston Conservatory where she received her BFA in Dance. After performing at well known venues such as Radio City Music Hall, Lake Placid Olympic Arena, Off-Broadway, PBS, and Jacob's Pillow, she decided to go back to school for an MBA in Entrepreneurship & Finance at Syracuse University. Throughout her career she has received various scholarships and Top Sales Associate Awards in Business Development.
Angessa is also a certified Barre, Arthur Murray Ballroom, ClubVibe and Yapana Chair Yoga Instructor — so if you need lessons, you know who to ask! Connect with Angessa on
LinkedIn
.
Arsema Abegaz, Business Analyst
Arsema came to the Berkshires in 2010 by way of Ethiopia. A graduate of Williams College in Williamstown, MA, Arsema majored in Economics with a focus on economic development and holds certifications in Google Analytics & Adwords. She's also a recent Berkshire County 40 under Forty Nominee! She brings her love of statistics and problem solving to Zogics as our new Data Scientist.

​Outside of her passion for Excel, Arsema also spends her free time volunteering for various community organizations in the Berkshires. She is also an avid BuzzFeed reader and a dedicated member of Beyonce's BeyHive. #flawless



Janet Latuga, Email Marketing Manager
Originally from Long Island, Janet graduated from Fairfield University in 2011 with a BA in Marketing. Soon after, she moved to the Berkshires and has been here ever since. Janet brings her knowledge and expertise to the Email Marketing Manager position at Zogics.

While Janet isn't working, you can find her baking, ballroom dancing, and taking her dog for a hike. In the summer she enjoys going to Tanglewood and various other events that the Berkshires has to offer.



Jeff Stripp, VP, Marketing & Sales
Originally from Weston, CT, Jeff attended Williams College where he graduated with a BA in Economics. He is also the VP of the
Western MA Chapter of US Lacrosse
.
Jeff has management experience in e-commerce, communications, business development, marketing and sales. He brings a great deal of strategic knowledge and e-commerce experience to Zogics. When he is not driving growth and helping customers at Zogics, you can find Jeff on the local athletic fields coaching lacrosse. He lives in Williamstown with his wife Linda of
Mezze Catering
fame and their three kids, Carter, Sarah, and Mason. Connect with Jeff on
LinkedIn
|
Twitter
|
Facebook
Katie Kovacs, Graphic Designer
After growing up in PA and a brief stint in KY, Katie graduated from DAAP, University of Cincinnati's design program, only to find herself a Berkshire transplant. Katie is a decent graphic designer and an ok mobile phone photographer.

Katie hopes to bring a new level of clarity, excitement, and functionality to Zogics design and marketing. Outside of work, design and photography are ongoing pursuits, as well as music, walking, and daydreaming.



Lauren Nitroy Reinhart, eCommerce Marketing Manager
Originally from southeastern PA, Lauren brings her love of tedious tasks to her role as our eCommerce Marketing Manager. A 2013 graduate from Susquehanna University, Lauren is responsible for managing the roll-out of new products on our site, constantly improving our efficiency, our Amazon Store and anything else we throw at her.

When Lauren isn't working, you can find her hiking with her dog, Grizzly, running, biking, or woodworking.



Marin Delic, Warehouse Manager
Marin originally came to the United States from Bosnia. He has since lived in Pittsfield, MA. He graduated from Lenox High School in 2013 and while in attendance, started a wrestling program. He had the fastest pin (8 seconds) in all of Berkshire County.

When Marin isn't working hard at Zogics, he likes to spend his free time exploring the outdoors with his friends, acting, or spending quality time with his family.



Misti Mitchell, Operations & Logistics Manager
Hailing from Eugene, OR, Misti is a veteran of the United States Air Force and served during Operations Desert Shield/Desert Storm. A 2010 graduate of Mildred Elley Business School, Misti has lived in and around the Berkshires for over 20 years.

As the shipping and logistics manager here at Zogics, Misti oversees all customer orders, inventory supply and the smooth running of shipping and freight operations with the concentrated poise of a Tibetan Monk. In short, she keeps our complex global business running as smooth as silk while overseeing warehouses in Massachusetts, Minnesota, Atlanta, Utah and Canada.



Nannette Reid, Customer Experience Manager
A native of Berkshire County, Nannette (AKA Nan) is a graduate of Drury High School and went on to study Criminal Justice at Bay Path College in Longmeadow, MA. Nan participated in athletics in both high school and college; excelling both in basketball and softball. Nan offers many years of Customer Service experience in the Information and Financial industries.

In her personal time, Nan is a passionate softball player and still plays in a women's softball league. She enjoys spending time with her family and also enjoys watching her children excel in athletics. She is a busy mom of three and when not at work she is shuffling her children to various soccer/basketball practices/games.



Rebecca Daly, Order Management & Account Specialist
Rebecca, our new Order Management & Account Specialist, was born and raised in the Berkshires. She attended Savannah College of Art and Design for two years before transferring to Massachusetts College of Liberal Arts where she graduated with a degree in Studio Arts and a minor in photography. She currently lives in Dalton, MA with her husband Austin and their son Roman.

When Rebecca's not making orders fly out the door with precision and ease, she loves to be outside with her family and working on design projects around her house.



Shawnee Tannenbaum, Office Manager
"Country mouse, city mouse, country mouse" most accurately describes Shawnee. She recently returned to her Berkshires roots from NYC with a BA from Hunter College and vast experience in start up operations. Along with enthusiasm for anything tech, she brings keen skills in problem-solving, planning, and logistics to the Zogics team!
Shawnee spends her downtime at home or at
The Bookstore
. She loves kayaking and cross country skiing with her family and is a little obsessed with her cat and snow. Okay, a lot obsessed.
Tiffany Aldous, Sales Development Representative
Tiffany came to the Berkshires from Rehoboth, MA in search of a BA in Marketing, which she received in 2013 from MCLA. The Berkshires quickly won her heart and Tiffany now calls it home. Life has brought her a diverse range of opportunities from thriving in the business development sector to excelling in the technical communications space and now back to business development.

Tiffany describes herself as a serial hobbyist, trying to obtain as many skills as she can in her lifetime. Some of which include AcroYoga, leather work, jewelry making and general crafting, upcycling, hiking, running, and kayaking. When taking a break from hobbies and work you can find her with her side kicks, a fearless pup, bearded dragon and kitty.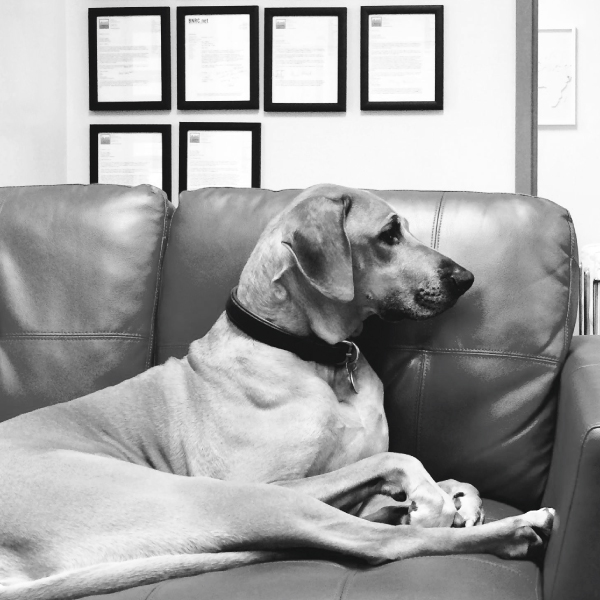 S'bu, Canine Resources
S'bu makes sure that the Zogics team provide our customers with the highest quality service. He sits in on all major decisions, including employee raises.
S'bu likes all types of music — and food. He aspires to run the 10 Mile Tough Mudder. You are definitely missing out if you don't follow S'bu's
Facebook
page.

How We Can Help
We understand that each customer and business is unique. If you're looking for a particular item, a custom price quote, or friendly expert advice on selecting the right products to suit your space, we're here to help. We encourage you to get in touch with us anytime by sending us a message through our website, or by taking advantage of our live chat feature from 8 AM - 6 PM (Eastern Standard Time) for more immediate assistance. You can also reach us via phone at 888.623.0088.

Connect With Us
To learn more about who we are and what we do, we invite you to connect with us on social media. Find your own inspiration on our
Pinterest boards
, learn from other community members on our
Facebook page
, or explore helpful and current tips and trends through our
blog
. To help you find the information you need, we also offer a one-of-a-kind
product resource guides
. Here you'll find up-to-date and essential guides to cleanliness, safety, equipment usage, and much more. We love connecting with our customers and invite you to submit any suggestions you may have for
new products
or services. We sincerely looking forward to hearing from you, and to providing you with the best experience in creating the environment you want with the products you need.