SKU:

CLNGPC32CN

Weight:

2.00 LBS

Shipping:

Calculated at Checkout
Cost-Effective Cleaning with Zogics General Purpose Cleaner
Zogics General Purpose Cleaner is an EcoLogo certified product, and a versatile cleaning solution designed for use in spray bottles and microfiber towel applications. Why pay more for less effective, harm-inducing cleaners? With the concentrated formula of our eco-friendly General Purpose Cleaner, you get more bang for your buck while achieving a superior clean. It's the smarter, thriftier choice for spaces that shine.
Advantages of Sustainable Cleaning Solutions
Our cleaner is not just safe for the planet; it's also safe for your health. Unlike other products, it lacks harmful chemicals like phosphates, EDTA, and NPE. By choosing Zogics Clean, you're prioritizing your health and the well-being of the environment.
Zero-Waste Cleaning with Recyclable Packaging
Step up your clean and reduce your ecological footprint with our recyclable bottles. These not only minimize waste in landfills but also represent our commitment to sustainable practices. With Zogics General Purpose Cleaner, you're contributing to a cleaner world, both inside and out.
Product Highlights:
Designed for general-purpose cleaning, capable of handling diverse cleaning tasks
Does not contain harsh chemicals
Provides superior cleaning with a concentrated formula
Enables effortless re-coating with minimal rinsing required
Designed to be cost-effective and offers more cleanings per bottle
Advocates sustainable practices with recyclable packaging
Benefits of Cleaning Concentrates
Cleaning concentrates, such as our General Purpose Cleaner, are aimed at achieving the topmost degree of cleanliness while also working towards reducing waste and unnecessary costs, making them an ideal solution for thoughtful consumers. The cost-effective aspect of these cleaners lies in their ability to provide extensive cleaning solutions from smaller quantities, thereby saving more money compared to typical one-time-use cleaners.
Their compact size significantly cuts down the amount of plastic packaging and consequently reduces waste, aligning seamlessly with our goal of minimizing environmental impact. This combination of factors showcases why Zogics' General Purpose Cleaner is a smarter, more economical choice for cleaning, providing a superior shine to your spaces without causing harm to the environment or overstretching your budget.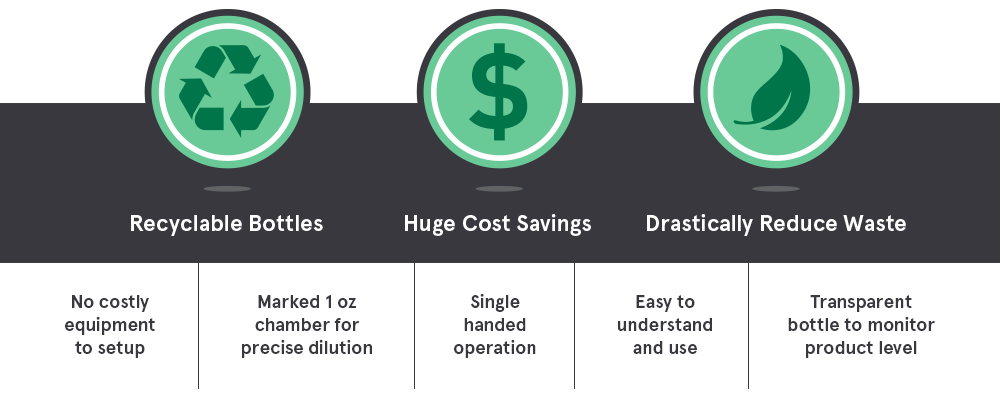 ---
Our easy pour containers feature a single 1 oz chamber with marked measurement levels of 1/2 oz for the most accurate dilution. Dilution control is possible through four steps:
Open the container
Squeeze until product is at desired level
Pour into bottle or mop bucket
Add water
Directions for Dilution
Use unheated tap water when diluting product using Zogics Commercial Cleaning Spray Bottle. These directions are flexible rather than specific. In many cases a more dilute solution can be used, while for extreme conditions a less dilute solution may be used.
Apply product by spray, mop, sponge, cloth or autoscrubber to surfaces to be cleaned. If necessary, agitate to help remove excessive soils. Wipe dry with clean cloth or rinse thoroughly with clean water after use.
Light Duty Cleaning: Dilute 1 ounce of product per gallon of water.
Medium Duty Cleaning: Dilute 2 ounces of product per gallon of water.
Heavy Duty Cleaning: Dilute 4 ounces of product per gallon of water.
Color: Blue
Scent: Fresh
pH Level: 10 - 11
Recommended Dilution: 1:32
Freeze/Thaw Stability: Keep from freezing
Ingredients: Sodium Xylene Sulfonate - (1300-72-7), Secondary Ethoxylated Alcohol - (84133-50-6), Sodium Carbonate - (497-19-8), Sodium Iminodisuccinate- (144538-83-0), Fragrance, Dye, Water
The Zogics Guarantee
We take pride in our products, which is why we offer a 100% happiness guarantee on all Zogics branded products. Enjoy an extra level of comfort buying our branded products knowing they are backed by a happiness guarantee that never expires. Used Zogics branded products can be returned at any time. Our return policy is simple: just ask and we'll give you a full refund (minus shipping charges).