About Us

Our Company
We're actively building the industry's best one-stop shop for all your facility needs – with your help. Since Day One we've built our catalog based on your ideas — we are here not just for you, but because of you. Whether you're focused on health, fitness, education, government, real estate, or hospitality, we're a bit obsessive about bringing you the best products, at the best prices, as quickly as possible. Plus, our famously friendly Customer Experience Team is always here to help.

Our Culture
Our home is our playground. We're located in the Berkshires — a hotbed of culture surrounded by the great outdoors. You can find us in the foothills of the largest state forest in Massachusetts, where we hike, run, bike, and x-country ski on a daily basis. We believe in wowing our customers and in
giving back
in ways that help maintain, expand, and preserve our amazing forests and ridgelines.

Our Team
Paul LeBlanc, Founder & CEO
Originally from Boston, Paul attended Babson College and the University of Economics in Prague. A lifelong entrepreneur, Paul is also on the Board of Directors for
The Trustees
, the nation's oldest statewide land conservation organization.
Paul is a former member of the U.S. Cycling Team and was a three-time Junior National Champion and U.S. Record Holder. These days, Paul can often be found road cycling, hiking with his lovely wife, Lauren, and trail running with his Rhodesian Ridgeback,
S'bu
.
Connect with Paul on
LinkedIn
,
Instagram
and
Strava
.
Angessa Hughmanick, Business Development Manager
Angessa is a graduate of The Boston Conservatory where she received her BFA in Dance. After performing at well known venues such as Radio City Music Hall, Lake Placid Olympic Arena, Off-Broadway, PBS, and Jacob's Pillow, she decided to go back to school for an MBA in Entrepreneurship & Finance at Syracuse University. Throughout her career she has received various scholarships and Top Sales Associate Awards in Business Development.
Angessa is also a certified Barre, Arthur Murray Ballroom, ClubVibe and Yapana Chair Yoga Instructor — so if you need lessons, you know who to ask! Connect with Angessa on
LinkedIn
.
Arsema Abegaz, Data Scientist
Arsema came to the Berkshires in 2010 by way of Ethiopia. A graduate of Williams College in Williamstown, MA, Arsema majored in Economics with a focus on economic development and holds certifications in Google Analytics & Adwords. She's also a recent Berkshire County 40 under Forty Nominee! She brings her love of statistics and problem solving to Zogics as our new Data Scientist.

​Outside of her passion for Excel, Arsema also spends her free time volunteering for various community organizations in the Berkshires. She is also an avid BuzzFeed reader and a dedicated member of Beyonce's BeyHive. #flawless



Craig Simmons, Operations Manager
Craig has always called Berkshire County, MA home. As Operations Manager, Craig keeps our complex global business running as smooth as silk while overseeing warehouses in Massachusetts, Minnesota, Atlanta, Utah, Canada, and Australia.
Craig loves to perform music and is currently the lead singer of a couple bands. His main gig is
Who Are You
, a tribute to the Who, which travels throughout the Northeast rocking out to thousands of adoring fans.
Jeff Stripp, VP, Marketing & Sales
Originally from Weston, CT, Jeff attended Williams College where he graduated with a BA in Economics. He is also the VP of the
Western MA Chapter of US Lacrosse
.
Jeff has management experience in e-commerce, communications, business development, marketing and sales. He brings a great deal of strategic knowledge and e-commerce experience to Zogics. When he is not driving growth and helping customers at Zogics, you can find Jeff on the local athletic fields coaching lacrosse. He lives in Williamstown with his wife Linda of
Mezze Catering
fame and their three kids, Carter, Sarah, and Mason.
Justin Evans, Inside Sales Specialist
Born and raised in Richmond, MA, Justin has always called the Berkshires home. He recently graduated from Saint Michael's College, where he earned a degree in Business Administration. Justin's excellent research skills are applied towards sourcing new sales opportunities.

A lifelong advocate of the outdoors, he can be found in the mountains during winter, or on the water during summer.



Katie Kovacs, Graphic Designer
After growing up in PA and a brief stint in KY, Katie graduated from DAAP, University of Cincinnati's design program, only to find herself a Berkshire transplant. Katie is a decent graphic designer and an ok mobile phone photographer.

Katie hopes to bring a new level of clarity, excitement, and functionality to Zogics design and marketing. Outside of work, design and photography are ongoing pursuits, as well as music, walking, and daydreaming.



Laura Muhlbeier, Inside Sales Specialist
Laura is a 2008 graduate of The Massachusetts College of Liberal Arts with a BS in English Communications. Laura is excited to contribute her sales experience along with her love of the Berkshires to Zogics where she is working as an Online Customer Experience Manager.

When Laura is away from her desk, you can find her having fun at her local CrossFit gym, grabbing a coffee with friends after a hike, or jumping in on any kind of wine or beer tasting.



Lauren Nitroy, Product Marketing Manager
Originally from southeastern PA, Lauren brings her love of tedious tasks to her role as our Product Marketing Manager. A 2013 graduate from Susquehanna University, Lauren is responsible for managing the roll-out of new products on our site, constantly improving our efficiency, and anything else we throw at her.

When Lauren isn't working, you can find her coaching the local high school rugby club, running, biking, or exploring the many outdoor activities the Berkshires offers.



Marin Delic, Warehouse Manager
Marin originally came to the United States from Bosnia. He has since lived in Pittsfield, MA. He graduated from Lenox High School in 2013 and while in attendance, started a wrestling program. He had the fastest pin (8 seconds) in all of Berkshire County.

When Marin isn't working hard at Zogics, he likes to spend his free time exploring the outdoors with his friends, acting, or spending quality time with his family.



Misti Mitchell, Order Management & Account Specialist
Hailing from Eugene, OR, Misti is a veteran of the United States Air Force and served during Operations Desert Shield/Desert Storm. A 2010 graduate of Mildred Elley Business School, Misti has lived in and around the Berkshires for over 20 years.

As Lead Order Specialist here at Zogics, Misti oversees all customer orders with the concentrated poise of a Tibetan Monk. In short, she's the one making sure all orders get where they need to go — without her we'd be up a proverbial creek.



Shawnee Tannenbaum, Office Manager
"Country mouse, city mouse, country mouse" most accurately describes Shawnee. She recently returned to her Berkshires roots from NYC with a BA from Hunter College and vast experience in start up operations. Along with enthusiasm for anything tech, she brings keen skills in problem-solving, planning, and logistics to the Zogics team!
Shawnee spends her downtime at home or at
The Bookstore
. She loves kayaking and cross country skiing with her family and is a little obsessed with her cat and snow. Okay, a lot obsessed.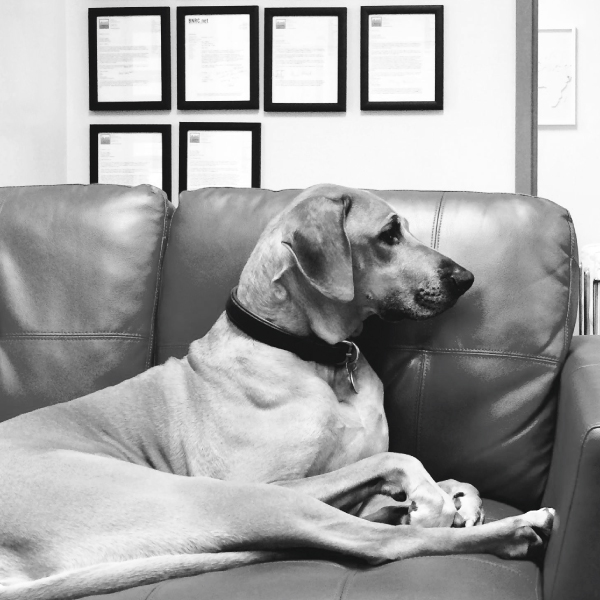 S'bu, Canine Resources
S'bu makes sure that the Zogics team provide our customers with the highest quality service. He sits in on all major decisions, including employee raises.
S'bu likes all types of music — and food. He aspires to run the 10 Mile Tough Mudder. You are definitely missing out if you don't follow S'bu's
Facebook
page.